I had gotten some of my mobility back through therapies and yoga, but my pain was always there. I could walk and move again after years of intense pain and injuries. My goals changed and comfort became my main goal. If I was going to be fat and in pain, then at least I would be as comfortable as I could be in my body and movements. I focused on diet and gentle consistent movements from yoga practice, aqua fitness, and walking. I was feeling better and maintaining my weight loss.
Lipedema 'management' is a joke
During CDT, my mobility was incredibly impaired. Short-term pain for long-term gain, right? Maybe. But it's a zero-sum game. It is an incredible amount of psychological commitment and endurance as well as physical; not to mention the financial burden, which would be the first barrier to any care you can receive. You have two sets of bandages (over $600), one to launder, lightly iron and hang dry, and then roll. It is a tremendous amount of work and time. I had to waddle around, and they were constantly falling down.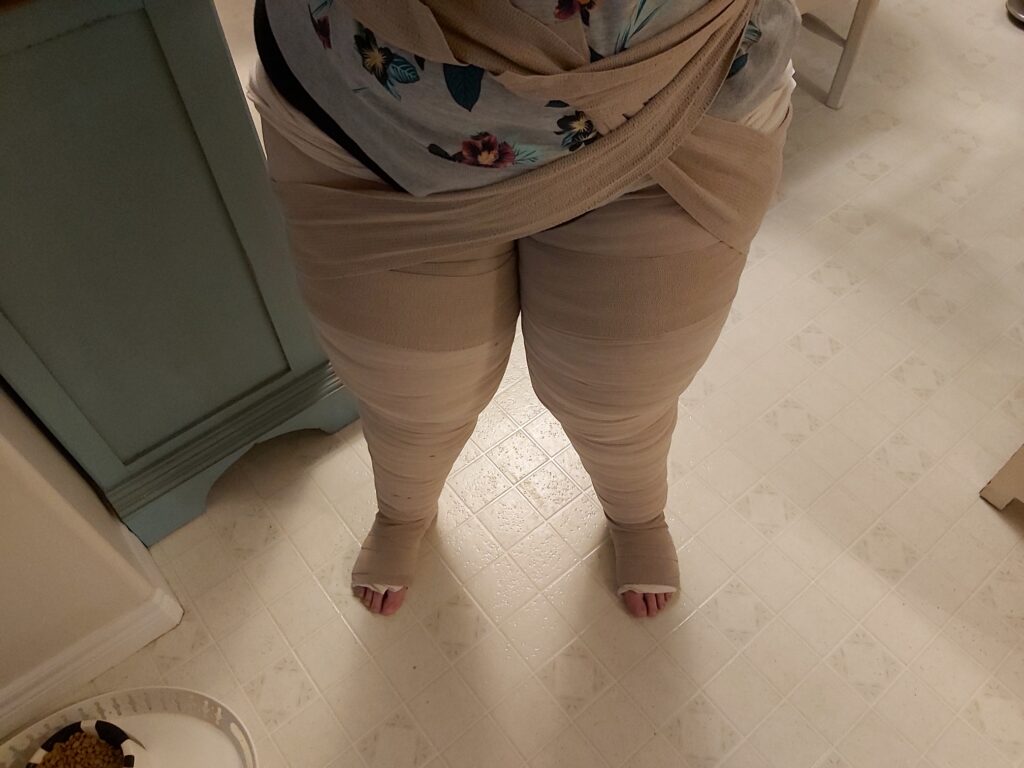 My body was dealing with the extra fluid, and my urine was quite cloudy for the first few days. I had to learn how to wrap and rewrap myself 2-3 times a day as they kept becoming loose. It was horrible! I cried and overreacted, I was a monster with no control. I kept thinking, is this really the best we can do? This was not designed for legs like mine, these treatments were designed for lymphedema, no wonder they are so poorly transitioned to lipedema patients.
I was holding on by a thread. I was overwhelmed, could hardly move, had no clothes to wear over the bandages, could not work, and could barely look after myself, let alone my family. We were finally able to take the measurements for compression and I was so glad when they arrived. Two weeks grew to almost a month by the time the compression garments arrived, as they were custom ordered from Jobst, in Germany. Every day was one more day I did it, I'd invested so much time, money, and perseverance, and I could do it! I can do anything! Especially following a regimen that will benefit my health for many years to come. I wrapped and washed and ironed and rewrapped for hours every day, for almost a month.
Custom compression is not an exact science, and perhaps it has come a long way, but it needs to come a lot further in my opinion. My first pair were horrible. Cutting me in half, the wrong length, way too tight, and creating double compression in spots, as I was wearing two thigh-high garments with silicone grips at the top and biker shorts. I appreciated having each piece put on individually. It makes it easier, especially in the beginning, and my fingers and hands were losing strength and becoming very painful, due to the quick onset of psoriatic arthritis during CDT (I'm the 6th patient with an autoimmune issue that this has happened to. A coincidence? I think not).
Easier is a relative term when it comes to these incredibly difficult, life-altering medical compression devices. We did some adjusting, and I did get thigh highs that were quite manageable (in the fit, but the negative impact they have on my mental health, my self-care, and my physical mobility have been overwhelming). The biker shorts were very problematic.
Impossible choices
I spent a lot of time wondering how I was going to keep doing this. If this was the rest of my life, was it even worth living? Little did I know that I would likely have an easier time being approved for MAID (medical assistance in dying) than getting medical care for my disease. If I hadn't been the driving force in my health and well-being, then the likelihood of being crippled, along with the increasing pain I was experiencing that at times was completely immobilizing, MAID could have been an option. I'd like to point out that women who have lipedema are at an increased risk of suicide. Development of depression, appearance-related distress, self-loathing, poor quality of life, and social isolation are highly prevalent in patients with lipedema, and this is just in the small number of patients who have been able to access information, were involved with educated professionals and were able to participate in studies.
Every day was one more day I did it. I didn't know when I'd stop wearing compression, but the one thing I know for certain is there is no way this was sustainable long-term. My first summer was a nightmare, I stayed inside, and did not go to the beach or pool. The compression made it much too hard. I have three children and I could not do the things I used to. My compression takes away from my quality of life too. Everything is harder, and I have to organize my life around them. Before compression, I was working on strength and flexibility. Last year I was in mourning, the life I knew was gone. It had been gone for a while, and no one gives you any guidance around that, but now it felt utterly hopeless. If this is the best we can do then I'm not sure if the benefit outweighs the cost.
If this was the only treatment for lipedema, then how long could I do it? My tissues do show improvement, my veins and lymphatics are being supported, my tissue is less fibrotic, and when I'm wearing my compression (at least 14 hours a day) my legs are not as painful to the touch. The downside is almost everything else.
Finding the Lipedema Community
I discovered a large community of women who had/are getting/are hoping to get surgical removal of their diseased tissue. They were sharing the details of the surgeons who were performing the surgeries, and studies completed by different universities and professionals. They share political changes that were helping them navigate this process. Sharing insurance information, sharing what they learn at medical conferences, and the different strategies they were using to manage their disease and get treatment. There are experts, information, and research, but for some reason, Canada has yet to even mention it in medical training at all. I had no idea, but this has been a treatment for over 15 years and has become standard practice in several countries around the world. The surgical treatment for lipedema involves removing large amounts of adipose tissue via liposuction and manual extraction of the lipomas. Several experts in the field have developed specialized techniques and have been working on patients with a BMI greater than 30 over forty for years.
Lose weight, is not the fix all
We are told we cannot be helped until our BMI is under 30 for many surgical procedures. That number is almost impossible to get to if you have stage 2 lipedema or higher. The negative health implications for letting lipedema progress are many, and a huge drain on our acute care as well as chronic issues secondary to lipedema. And then we are told to go and lose weight because that is the fix-all, but losing weight is met with more hurdles as the lipedema is not recognized by the body as an energy source, it is metabolically inactive. There is limited success for many of us. Cosmetic liposuction differs in many ways. It is allowing women who suffer from lipedema, to restore their mobility and reduce pain long-term with great success.
Getting ready for lipedema surgery
I needed to know more. So, I watched more medical conferences and looked at who was doing research, who was performing these surgeries, where, how much, and what was the community saying. What I found was very helpful and made a lot of sense. Before surgery, it is important to do a few things. One is to have CDT before your surgery; helping clear a lot of the previous swelling by getting the lymphatics moving and helping prep the tissue for removal by reducing inflammation and softening the fibrotic tissue. Diet and exercise are always crucial, and many people are having some success with Keto, LCHF, and anti-inflammatory diets. It is helping them lose weight and with pain management, but it does not treat lipedema.
High-impact exercise can easily cause injury and set back your progress (speaking from personal experience). Before compression therapy, it was much easier to get movement in my day. I'll be approaching the two-year mark at the end of the year, and I've gained about 15 pounds since starting compression therapy. Stress, depression, fatigue, family, work, pain, mobility, money, and having a disease that is completely ignored and training myself to become an expert in my treatment has been challenging to say the least.
Surgery is the only way forward
To maintain conservative management of lipedema I've had to change my mindset. This is preparation for treatment, actual treatment, which will provide long-term improvements to my life. All the relief I get is very temporary. I've done all the dieting recommended for lipedema and continue with the LCHF which seems to work the best for me, and I can maintain it. I've completed CDT and continue with compression therapy. I've done all the exercise therapies recommended, and have been building my microbiome for years, getting my vitamins, fish oil, minerals, cold therapy, no hot showers or baths, no hot tubs, physiotherapy, chiropractor, osteopath, naturopathic care, vibration plate, inversion table, and now because of arthritis, I have to take an immune suppressant medication because if I don't then it will cause joint and tendon damage that will not be able to be reversed.
Another requirement before surgery is getting varicose veins removed or sealed. Before proceeding with surgery, it is important to do this, and you must wear compression when having this procedure done during the healing process. So, I started working on preparing my body for a successful surgery. This is the motivation I need to keep going. There is some light at the end of this tunnel.
Hope is gonna cost me
I know how to ask questions. I take notes, and I take what I've learned and apply it to the next situation. I had figured out CDT, and I'd been adhering to the protocol for 8 months when I decided it was time to get my veins looked at in July of 2021. When it was time for lipedema removal surgery, I would be ready. I couldn't wait much longer.
Over the past 12-16 years (since I started having children) things have been getting worse, despite my best efforts. I can live in a big body, I'm quite good at it. I love my body! But I can't do the pain, I can't continue to see my world get smaller and smaller at almost 44 years old, and it has already been happening for over a decade. I refuse to become a spectator watching life happen around me when there are treatments that have long-term relief. That is no kind of life.
I have no shame in my game now that I understand what is happening to me. I take more pictures of myself, I don't cringe and feel sick and disappointed at the way I look from behind, in front, or wherever.
This is not normal fat, it is Lipedema! It is harmful and causes inflammation and swelling, left untreated it will negatively impact your health for decades in most aspects of your life.
Showing others my truth
I want to show other women who look like me that they've been tricked, and hoodwinked! We believe our symptoms are simply a result of a flaw in our character, it is very socially and medically acceptable to not question almost any symptom a fat woman has, as most believe this is entirely a calorie input vs output issue. Now, that idea has been quashed repeatedly, but our biases around obesity are so ingrained, so predominant, that even those who are supposed to be versed in health outcomes are caught in these outdated and frankly dangerous ideas around women's bodies and health.
People have been questioning their governments, their policymakers, and their medical care communities, demanding more care for fat and lymphatic disorders for many years. We understand the body in ways we never have before. It's mind-blowing the discoveries that are being made, the research, and the huge amounts of awareness across the world. Why in Canada are we so quick to dismiss the idea that there is a fat disease that affects predominantly women, that cause a huge array of health issues that are very expensive and dangerous when left untreated.
Moving is difficult
I want to work, I want to play recreational sports, I want to travel without having to worry about how I will 'fit' in the assigned seat or weigh out the pros and cons of participating in an activity because my compression may get damaged, or a small injury could occur that would have a huge impact on my life. This is not for lack of trying. I do many things to maintain my health, but lipedema makes me more prone to infection, and makes healing more difficult, it is linked to lymphatic dysfunction and venous insufficiency.
The answers patients are getting from their physicians about their pain, their bodies, their swelling, their fatigue, their joint issues, or their metabolic health are not adequate. We need specialists that have not only a depth of knowledge about lipedema but up-to-date treatments and provincially provided care. The research is out there, and there are many experts all over the world, but none reside here.
Why do we hate fat?
So many questions and no one is here to answer them. Why is there no one here to answer them? Why do I not deserve help? What is it about lipedema that makes it different, it is not uncommon.
What have I learned since I started actively searching for help?
I've read Fat So! by Marilyn Wann. I wish I had read it sooner, but perhaps I wouldn't have been able to appreciate it when I was younger. This was written in the late 90s and I appreciate her research and delivery as a fat woman. I was given a few books by a newfound friend, Jennifer Brady. She is very well-versed in many subject areas, especially around health, wellness, and fat bias. It is very exciting to speak with someone who does a lot of research. The way we approach health care for fat people is disgusting. The single best indicator for poor health outcomes is not how much fat you have on your body, but the amount of money at your disposal. Poverty is the number one indicator of poor health outcomes.
Genetics are also a major contributor, as is your lifestyle. Bodies look different, BMI (Body Mass Index) is a joke, and in almost all categories of health outcomes, BMI has no bearing. Fat women are dying at higher rates from gynecological cancers not because they are more prone or at increased risk of these cancers, but because their concerns about their health are not taken seriously by their healthcare professionals until it becomes undeniable, and the cancer has progressed or spread. This results in their chances of survival becoming smaller. I'd like to take a moment to talk about Ellen Maud Bennett, age 64, who died on May 11 in Canada and used her obituary to call attention to this huge problem. This is not an isolated incident. When you continue to get this type of treatment while advocating for your health, eventually you avoid your doctor, and you avoid emergency rooms unless you are sure death is imminent. Help is for people who have a healthy BMI. Outside of that, according to a majority of health professionals, your only focus should be getting here.